WHY CHEMOTHERAPY DAYCARE CENTER IS IMPORTANT IN CANCER CARE
H.O.P.E. Oncology Clinic – The Chemotherapy Daycare Center, as the name suggests Holistic Oncology with Patient Empathy is a full-fledged cancer clinic with a well-equipped chemotherapy daycare center. It is designed to look after the patients who have been advised short therapies / procedures and do not require night stay in hospital. Such patients are given treatment in daycare center during the day time so that patient is able to go home the same day. Being a specialized Cancer Care Clinic, it has a 360 degree approach to wellness of cancer patients and survivors.
• One of the advantages of a specialized Cancer care Centre is that, there are experienced Oncologist, Pediatric Oncologist, Hematologist and Pain and Palliative care specialist. All staff- nurses, technicians, pharmacist and others are trained in oncology care. This makes it very helpful for patients to explain about their problems and clarify their doubts.
• Another advantage of daycare services is that it is economical to patients and it saves their time. There is no disruption of their daily routine. Admission and night stay charges can be avoided.
• Patient can recuperate well in the comfort of their home after getting treatment done during the day. With near and dear ones around, people feel more happy and tend to respond well to treatment and in turn they recover faster.
• Especially for people coming from outside Delhi, there is no need for arrangement of local boarding and logging facility by the attendants of patients, as patient can go home same day. This helps to avoid hassles of packing up bags, medicines and patient necessities each time you visit for treatment.
• Being a small capacity Cancer Care Centre, there are negligible hospital-acquired infections. Being low in immunity during chemotherapy, this is of major importance to Cancer patients. We take utmost care in the maintenance of hygiene and disinfection. We believe Cleanliness is next to Godliness.
• Patient does not need to stand in long queue as admission and discharge process is quick. If patient is in good health, vitals perfect then the process is even fastened by keeping medicine and files ready as per their treatment plan. We have a seamless registration, admission and discharge process.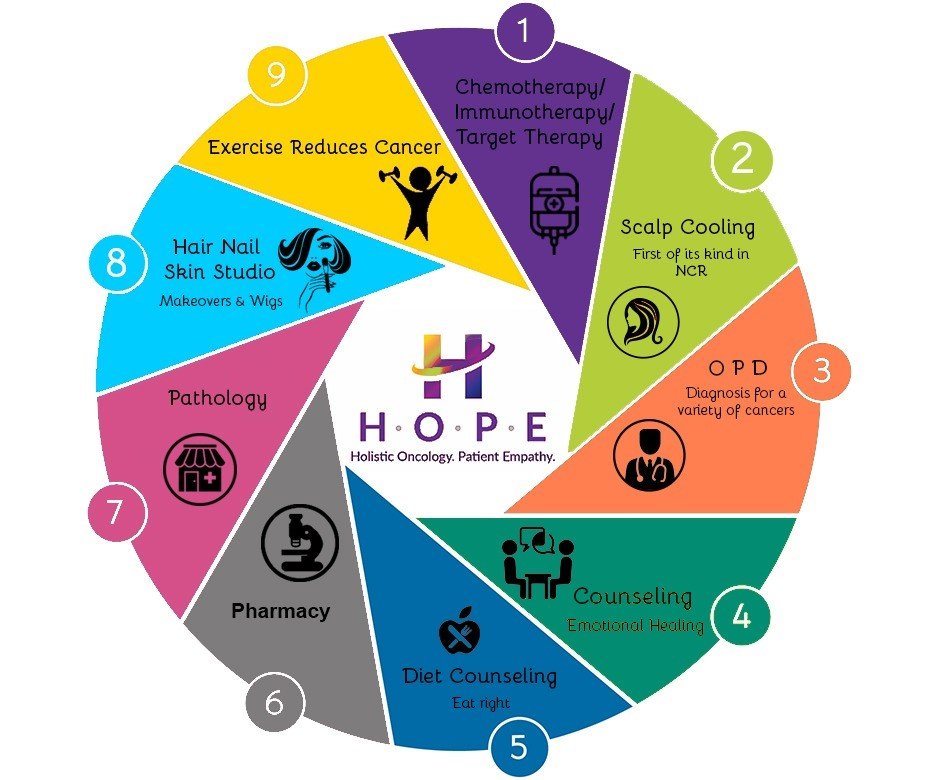 Due to the advances in chemotherapy and the need for timely treatment delivery, the importance of chemotherapy daycare center is increasing each day.. Excessive delays in getting appointments at hospitals are the main reason in the rising popularity of Chemotherapy Daycare Center. The best way out is by isolating the procedure from the complexity of overall cancer management, thus making it simple and immensely patient-friendly.
We offer advanced treatment procedures in a clinical environment outside of a hospital setting for patients of all types of cancer including breast cancer, lung cancer, head and neck cancer, gastro-intestinal cancer, blood cancer, and cervical cancer. We provide complete cancer care from diagnosis, treatment plan, and rehabilitation. Such standalone cancer daycare centers not only ensure that patients with compromised immunity are less vulnerable to hospital-acquired infections, they also get world-class treatment nearer their home without visiting a big hospital, in the hands of the best Oncologists.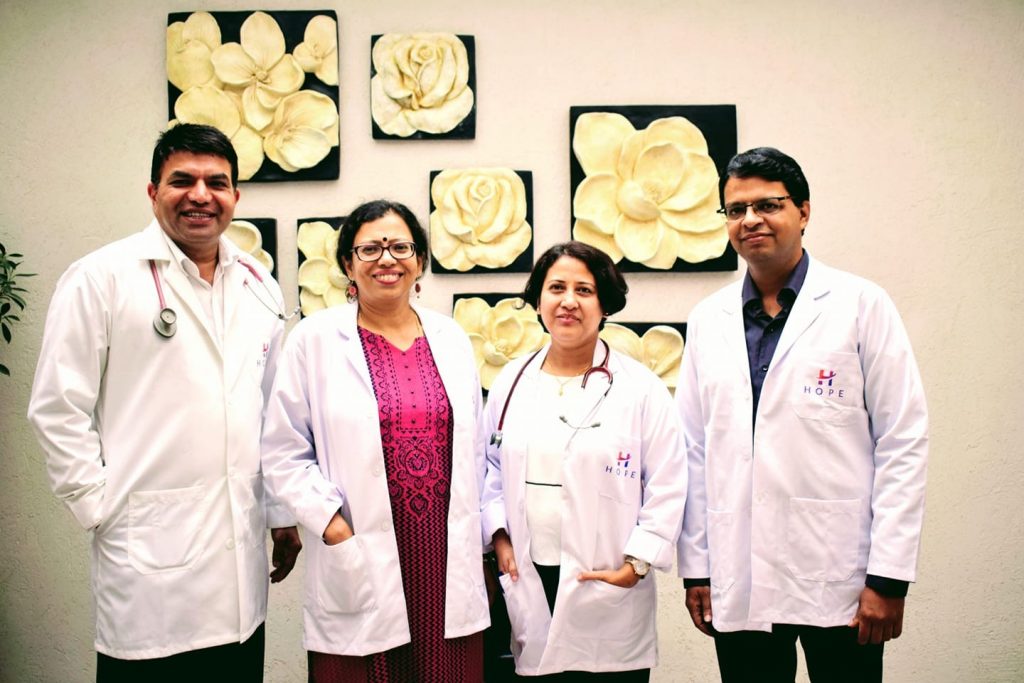 H.O.P.E. Oncology Clinic is adequately staffed by renowed and experienced doctors, like Dr Amish Vora- Cofounder and Director of Oncology; Dr Amit Upadhyay- Hematologist and Bone marrow transplant specialist; Dr Nandini Hazarika- Pediatric Oncologist and Hematologist; Dr Sonali Chatterjee- Pain and Palliative care Expert, onco-nurses, pharmacists and trained support staff. We help patient in complete management using chemotherapy medicines, immunotherapy medicines, including prevention, early detection, treatment and rehabilitation. Before patients undergo any treatment, they are given adequate counseling on side effects, dosage and after-treatment care. We have a dedicated Chemo Mixing Bio-safety chamber to ensure utmost safety of staff and minimum delay in getting mixed chemo drugs for the patients. The H.O.P.E. Oncology Clinic is one that evolves with these advancements – the treatment we provide is at par with the world's cancer curing progress, research and development.
The reception area and silent waiting area is stocked up with a lot of board games for patients while they wait for his/her turn. Our front desk staff actively participates in keeping the happiness quotient high of our patients.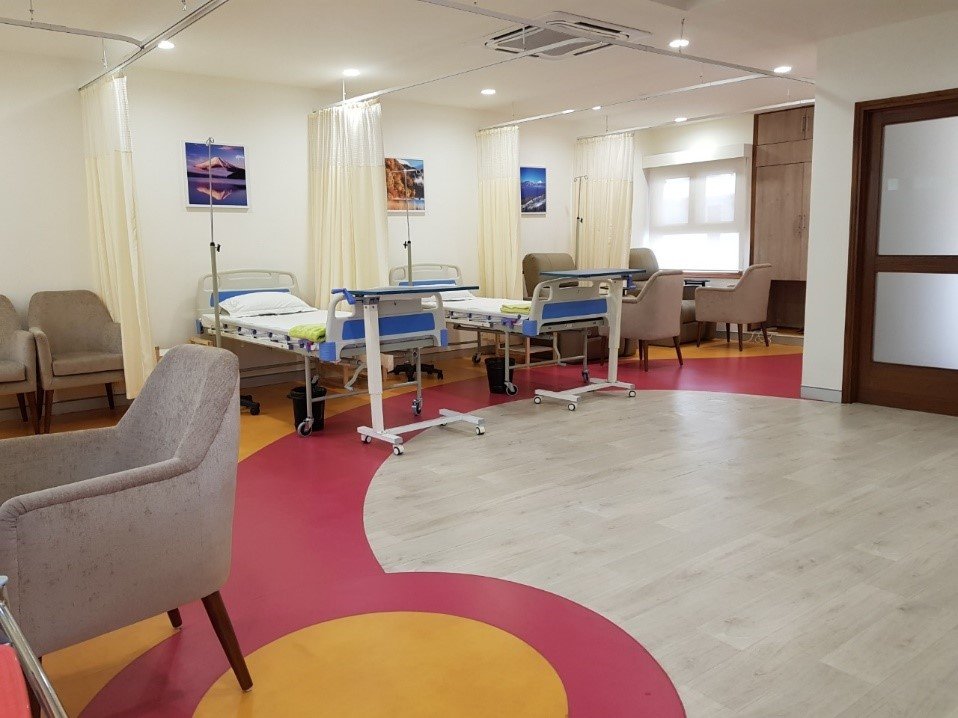 Chemotherapy is one of the most important treatments in all types of cancer. It targets cancer cells with drugs given through IV line. There are many different types of "chemo" and different people respond to it in different ways(each patient has side effects based on their immunity). Chemotherapy destroys cancer cells, but also stops or slows their growth and prevents them from spreading to other parts of the body. Chemotherapy can be a stand-alone treatment or given with other forms of intervention like radiation and surgery. The procedure can also make other treatments more effective. Thus our chemotherapy daycare center is most suited for cancer care.
While undergoing Chemotherapy, we have magazines and books imparting good information about Cancer diets, stories and positivity. Our nursing staff and GDA are always around to cater to all your needs. Our chemotherapy daycare center is furnished with patient beds, recliners, private suite. We provide soft light weight blankets and pillows, clean sheets to patients.
H.O.P.E. Oncology Clinic with Chemotherapy daycare center is the 1st of its kind in North India to have the Scalp Cooling device, which uses the advance technique to reduce chemo induced hair loss. This device has helped many patients experience very less hair loss while undergoing chemotherapy. Scalp cooling informatory presentations are conducted regularly for patients, friends, relatives, Pharma Company to understand the benefits of this device.
We have an in house cafe, which caters to meals for patients while they undergo treatment. We provide customized diet as per advice of treating doctor and nutritionist and more importantly as per patient's taste. While the patient is being administered treatment, their care takers and relatives can have breakfast, snacks, meal at the café.
Hair care, skin care and nail care are a few most ignored part of the treatment as patients are over stocked with the treatment issues and its side effects. We offer a complete care for all cancer fighters. From wigs to hair care, dry skin to flaky skin, dark nails to brittle nails- for all the grooming related queries patients consult Hair-Skin-Nails Studio. This is 1st of its kind all over India and we have continued research going on to make it better each day. The best products tested for cancer patients are used in all services provided, like manicure, pedicure, facial, skin rejuvenation, nail discolouration and many more specific to needs of cancer patients.
Exercise helps in reducing cancer occurrence, recurrence and dealing with side effects of various cancer treatments. A number of researches have been done and it is proved that Exercise has a positive effect on Cancer Fighters. We have a Cancer Exercise Specialist who does patient assessment, checks for muscle imbalances and designs a safe and effective program for patients to reduce pain and overcome fatigue. This program also helps in improving the range of motion at various joints, so that the patient lives a routine life and is able to do things that he/she enjoys.
A number of times Patients and their care giver are not fully satisfied with their doctor, either because they haven't undertood the treatment plan well or at times it's the fear of asking. In both the cases it's the patient who is at loss as they need to be convinced with the doctor's treatment plan to avoid and misunderstandings and feel bad when the medicine doesn't give desired results. Our team of Oncologists believe that a second opinion to such cases help them get more confident and start their treatment on a happy note. Hence Chemotherapy daycare center is beneficial.
Palliative care is very important for cancer patients. It is care given to improve the quality of life of patients. Palliative care addresses the person as a whole, not just their disease. The goal is to prevent or treat, as early as possible, the symptoms and side effects of the disease and its treatment, in addition to any related physical, emotional, social, and spiritual problems. Palliative care plays a very important role in life of patients. Right from the information about their diagnosis to available treatment options, further understanding their taste buds and providing a fulfilling meal. Palliative care specialists also provide caregiver support, facilitate communication among members of the health care team and help with discussions focusing on goals of care for the patient. Being available all time and comforting the patient while in pain, our Palliative care expert who has experience of over 10 years, does not miss a chance to look after her patient and giving her best. As she rightly says
WE SHOULD PUT LIFE INTO THEIR DAYS,
NOT JUST DAYS INTO THEIR LIVES"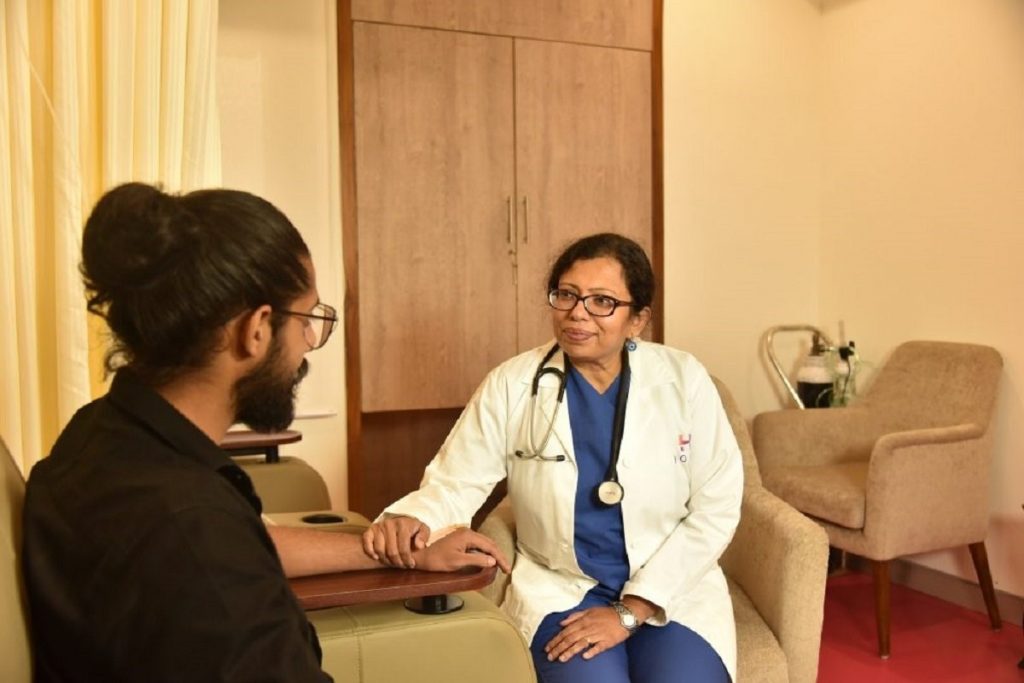 If you are suffering from Cancer, so give us a chance to look after you. Apart from best in class treatment,
we shall offer you warmth and a homely feeling empathetically.
WE UNDERSTAND YOU AND CARE FOR YOU
DAYCARE SERVICES (CHEMOTHERAPY DAYCARE CENTER) ALSO INCLUDES:
THERAPIES
Chemotherapy
Immunotherapy
SUPPORTIVE CARE
I/V fluid administration
Blood Transfusion
PROCEDURES
Lumber Puncture
Bone Marrow Aspiration & Biopsy
USG guided Pleural Tapping
USG guided Ascietic Tapping
PICC Line flushing/dressing /removal
Chemo Port Flushing / dressing
MONITORING
Post CT/USG Guided- FNAC/Biopsy
Post LP
Post Bone Marrow aspiration
Post ascietic tapping
Post Pleural tapping
SCALP COOLING
SECOND OPINION CLINIC
PAIN MANAGEMENT
PALLIATIVE CARE
COUNSELING
EXERCISE SESSIONS
CV stretching
Range of motion
Strengthing
Lymphedema management
GROOMING SESSIONS
Hair Care
Skin Care
Nail Care
Wig Selection
Wig Maintainance
For any query related to Chemotherapy Daycare Center or any services we provide please contact us by filling the form.